Welcome to Burnhamthorpe Animal Hospital
We are a team of 4 veterinarians, 2 registered veterinary technicians, and a host of other caring support staff who work to serve you and your beloved furry friends as if they were our own! We have been serving our local Mississauga community for over 30 years, thank you for your ongoing support! We treat cats, dogs, rabbits and pocket pets. Sorry – no birds or reptiles.
Our veterinary clinic is located in the heart of downtown Mississauga, we are within close proximity to all major highways to serve you better!
Our mission is to provide our valued clients and their beloved pets with the most comprehensive and advanced health and behavioural services possible. We are located on the south side of Burnhamthorpe Rd. W, just east of Mavis Rd. and west of Grand Park Dr. With respect to major highways, our animal hospital is south of the 401 and 403, and north of the QEW.
Book an Appointment Today
Please call the clinic at (905) 276-4083 and we will book a time that is convenient for you! Or you can book an appointment online by clicking the button below.
For more details on our business hours, location or emergencies, please click the button below. We look forward to seeing you,
The Highest Quality of Care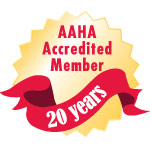 We want to ensure that our level of service stands out among the rest.
Our accreditation with The American Animal Hospital Association (AAHA) provide our veterinarians and devoted staff with consistent encouragement to strive to provide the best care possible.
What to Expect at your first Appointment
If you are new to our clinic, please arrive 15 minutes early so we can collect any relevant information and set up a file. If your pet has been seen at another clinic in the past, it is helpful to have their medical records including physical examination findings, previous treatments, lab reports, etc. sent to us ahead of time. Please have them e-mailed to petdoctor@rogers.com or faxed to (905) 276-2534 in time for your appointment. If you prefer, we would be happy to call your previous clinic to request these medical records for you.
We feel that communication is an important facet in our ability to provide AAHA-quality care to our clients and their pets. The first appointment at our clinic is often a bit longer in order to allow enough time for us to get to know you and your pet. This will also help us to address all the concerns or questions you may have in one visit.