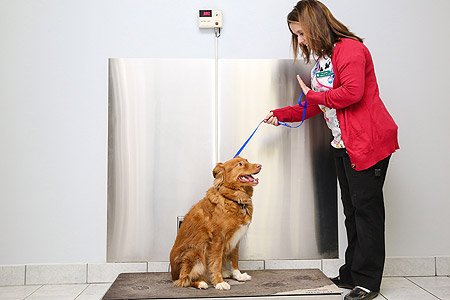 Nutrition is one of the most important aspects of your pet's health and can set the path for a lifetime of good quality nutrition and disease prevention.  We offer nutritional consultations to make sure your pet is getting the most appropriate and balanced diet.  During your visit we will work together to create a nutritional plan tailored specifically to your pet's needs which will include their age, breed, gender, feeding needs, and any health issues or concerns.   You will work with the veterinarian to determine the proper nutrition and portions.  We also carry a range of high quality life-stage diets as well as prescription diets. 
Obesity is one of the biggest health concerns in our pets today.  Here at Burnhamthorpe Animal Hospital we promote healthy weight loss in pets all year round! Our "Slim Fit" program and Metabolic program are weight-loss programs designed for dogs and cats. This service is run by our registered veterinary technicians and is free of charge. Ask us for more details!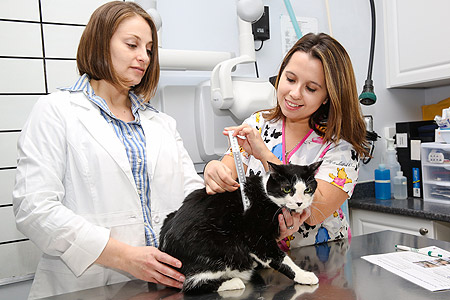 Pet Food Nutrition
Petfoodnutrition.com
Using body proportion measurements and body condition scoring, our team will be able to compare your pet's actual weight to their ideal weight and come up with a plan in order to help them achieve their goal weight. This will help them to minimizing future weight-related health concerns such as:
osteoarthritis and injuries
cancer
respiratory difficulty
improved energy level and attitude…and more
DID YOU KNOW?!
More than half of all dogs and cats are classified as overweight or obese and these numbers are rising. Keeping your pet at a healthy weight can live up to 2 years longer with a better quality of life!
Is Your Dog at Increased Risk?
The right weight loss nutrition can help reduce the risks associated with high body fat percentage. As body fat increases, so does the risk for:
Shortened life expectancy
Diabetes mellitus
Reduced mobility
Arthritis
Increased physical injury
Respiratory disease
Kidney disease
Cancer

Is Your Cat at Increased Risk?
The right weight loss nutrition can help reduce the risks associated with high body fat percentage. As body fat increases, so does the risk for:
Shortened life expectancy
Diabetes mellitus
Reduced mobility
Arthritis
Increased physical injury
Respiratory disease
Hepatic Lipidosis
Kidney disease
Cancer
Bladder stones