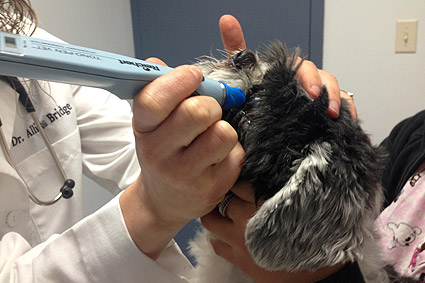 At Burnhamthorpe Animal Hospital we evaluate your animal's eyes during the physical exam very closely.  One of the services we offer is intraocular eye pressure testing done with a special computerized tool called a tonopen.
Measuring intraocular pressure (IOP), is a very important test as it can allow us to diagnose and treat glaucoma in pets.  Tonometry is a very easy and gentle test. Sedation is not required and a local anesthetic eye drop, is used to numb the eyeball. This allows the veterinarian to examine the eye without alarming the patient and for the pet not to feel the tonopen on their eye.
What is Glaucoma?
Glaucoma is a disease of the eye in which fluid pressure within the eye rises.  The eye becomes very painful and  if left untreated the animal may lose vision, and even become blind.
What Causes Glaucoma?
Many different conditions can cause glaucoma. Glaucoma is classified as either primary or secondary in animals.
Primary Glaucoma is an inherited condition. Primary glaucoma occurs in many breeds of dogs, including the American Cocker Spaniel, Jack Russell Terrier, Basset Hound, Shar Pei, Shih Tzu, and Arctic Circle breeds such as the Siberian Husky. Primary glaucoma is very rare in cats.
Secondary Glaucoma is a result of  decreased drainage of fluid from the inside of the eye which occurs when other eye diseases are present. Common causes of secondary glaucoma include: inflammation inside the eye (uveitis); advanced cataracts and cancer in the eye.  Glaucoma in cats is almost always secondary to uveitis/inflammation inside the eye.
How is the Eye Affected by Glaucoma?
Pain– Glaucoma is a very painful condition.  In humans, it can feel like a crushing migraine pain or eye pain  and can be so intense to cause vomiting.  Animals show pain in different ways than humans do.  Animals with glaucoma  do not cry out in pain and may only show subtle signs such as decreased activity, sleeping more, hiding, less desire to play, and decreased appetite. There is usually no squinting or rubbing at the eye.  Because these signs are not noted as pain,  glaucoma often goes missed by owners.
Loss of Vision- Permanent blindness can occur within hours if the pressure is very high and the glaucoma develops rapidly.
How is Glaucoma treated?
At Burnhamthorpe Animal Hospital your animal will be evaluated and treated accordingly.  Medical management of glaucoma may involve eye drops and oral medications and in some cases even surgery is required.  Depending on the severity of the case, we may recommend a referral to a veterinary ophthalmologist for further evaluation and treatments.