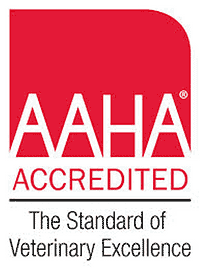 The American Animal Hospital Association – AAHA
"Setting The Standard of Veterinary Excellence"
www.aahanet.org
Why are we AAHA Accredited?
Burnhamthorpe Animal Hospital has been accredited with the American Animal Hospital Association (AAHA) since 1991. Our hospital, including all of the veterinarians and staff, treat client pets as if they were our own. We are among the 12% of veterinary clinics in North America to have voluntarily sought accreditation with AAHA, in which we uphold nearly 1000 additional standards above and beyond hospitals that are non-members. In that spirit we strive to provide the highest standard of safety and quality care possible for your pet while ensuring the value of our services stand out among the rest. In our third decade of service, we encourage and hope to continue building trusting and life-long relationships with our clients and their pets!
What does it mean to be AAHA Accredited?
Since 1933, AAHA's leaders and other veterinary experts have developed specific written standards for companion animal practices. These standards have been enhanced over the years and were developed in order to raise the bar of veterinary excellence. Not all practices are created equally. Practice team members make significant contributions to the delivery of quality care and the overall success of every veterinary practice by improving the following:
quality of care (anesthesia, contagious disease, dentistry, patient care, emergency and critical care, pain management, surgery, diagnostic imaging)
management (client service, continuing education, human resources, leadership, safety
facilities (sterility, housekeeping and maintenance, diagnostics, laboratory, pharmacy)
communication, medical records, mentorship and more!
Learn More about AAHA
Article – AAHA – The League of Champions (March 21, 2018)